Astonishing Curing Calculation for Flexible Factory Joints
Flexible vulcanized joints (FVJ) also known as flexible factory joints are typically used in extending delivery lengths of extruded subsea cables. Lengths of XLPE insulated cable core are often limited by the capacity of extrusion, degassing or basket lay-up. Factory joints overcome these constraints.
Extend subsea cable lengths
The quality of the factory joint has to be as good as the cable in order to achieve a reliable subsea XLPE cable. The factory joint therefore needs to have similar physical, thermal, electrical and mechanical properties as the cable itself.
The cable's insulation characteristics are matched by means of heat vulcanizing extruded cross-linkable PE tapes, placed around the joint. The inner semi-conducting screen, insulation and outer semi-conducting screen are processed in separate steps to achieve a joint with a high level of cleanliness and robustness. Quality assurance includes control of minimal dimensions, thermal and pressure measurements as well as electrical characteristics.
Simulation tool for quality joints
Our joint curing calculation (JCC) software is specifically developed for extruded subsea cable. It simulates and optimizes the vulcanization time of the restored insulation layer and ensures sufficient crosslinking throughout the joint insulation. A degassing optimization module is also available to fine-tune the degassing time and to ensure sufficiently low methane concentrations. The novel degassing module in JCC software provides insight into methane diffusion during the degassing process and optimizes the degassing time.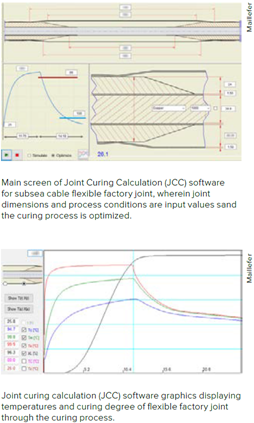 Complete with Consultation
Maillefer offers consultation services for the equipment and consumables required to manufacture factory joints of HVAC subsea cables up to 1600mm2/220kV (245) kV. Complete the package with assistance for qualification purposes, including Type- Test (T-T) and/or Pre-Qualification (PQ).
Timo Mäkelä
Technology Wire & Cable
timo.makela@maillefer.net
Source: https://www.maillefer.net/en/
Image source: Copyright Maillefer
Read more about Maillefer here